Thanks so much for all the lovely comments on the

Forest Path Stole

.

To quickly answer some of the questions:

I think the stole can be made narrower by removing one lace panel from each of the tiers. It would be pretty straightforward with some tweaking of the placement of the panels required (this makes more sense if you are looking at the pattern – honest!).

Making it shorter is very simple, just reduce the number of tiers – and the pattern gives options to do this.

And – errrrr - thanks for the kind offers to let me finish up the hibernating FPS's out there – but I think I'll pass for now!!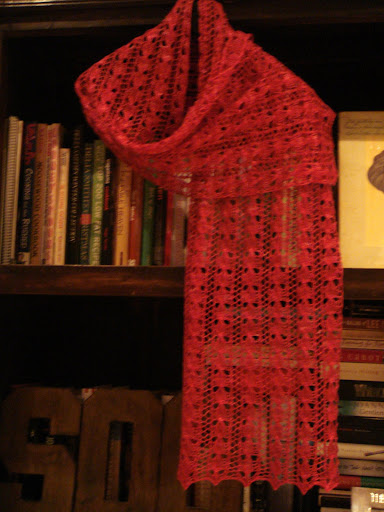 As often happens when I finish a big project I'm at a bit of a loss about what to tackle next. And my knitting this week reflects that.

The first thing I did was pull out the hibernating Melon Scarf and faff around with some border options. After two or three unsatisfactory attempts I remembered Gen saying before Christmas, "It looks great like it is – I don't think it needs anything else." And I looked at it, with non-knitter, non-Victorian Lace Today eyes and saw what she meant.

So I cast it off.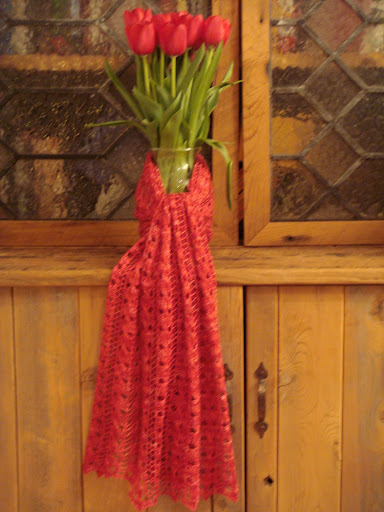 It is a very simple scarf, made just a little bit more special by the sheen of the SeaSilk. Here it is wrapped around a vase of tulips which are meant to imitate my head.
One skein of Handmaiden SeaSilk, pattern from Victorian Lace Today.

Then I turned into a hat machine.
This was driven by two factors: a need to knit up some stash yarn, and the fact that the last hat I made which little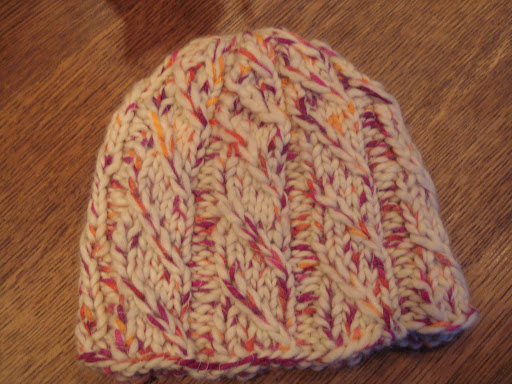 Mads claimed as hers does not in fact fit her. While
she's wearing it, it slowly slides up her head until it is perched precariously on the top of he
r head. Apparently because I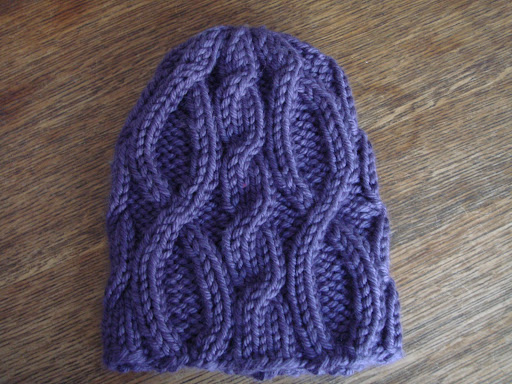 made it, she insisted on wearing it anyway. (How cute is she? She wins handknits for life!)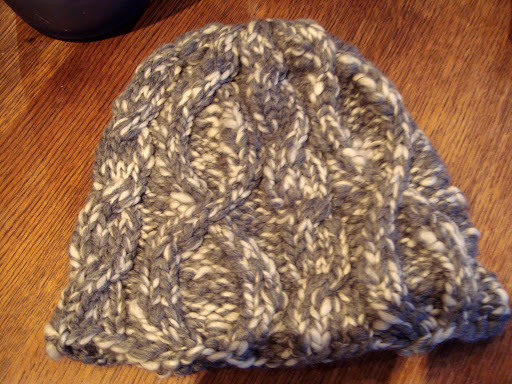 So I pulled out some wool left over from the great poncho
knit-athon of 2004(ish) and started knitting hats.

(The great poncho knit-athon began when I responded to a casual comment from Caroline that she loved a poncho she'd seen in Liberty. "I could make you one" I said. And then Susie, Gen and Mads (who was 5 and had no idea what a poncho was) chimed in with "Could I have one Sooby?" And thus began 2 months of poncho knitting. I didn't even like ponchos.)
The purple hat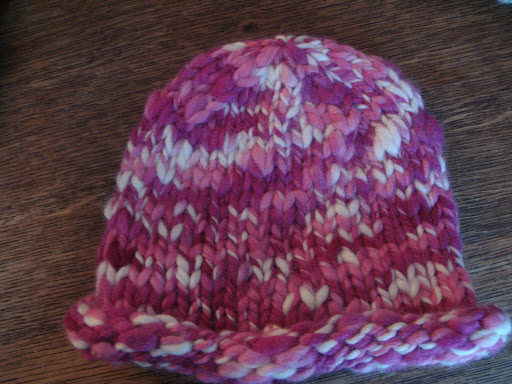 and the grey hat with cables are from the Harlot's 'Unoriginal Hat' pattern. The other three are even less original hats made up by me as I went along.
The linen coloured hat was meant to have cables all the way up the hat, but I got distracted and missed the second cable so rather than rip it out I decided to leave the one cable in and call it a design feature. I expect this is how all the great designers work.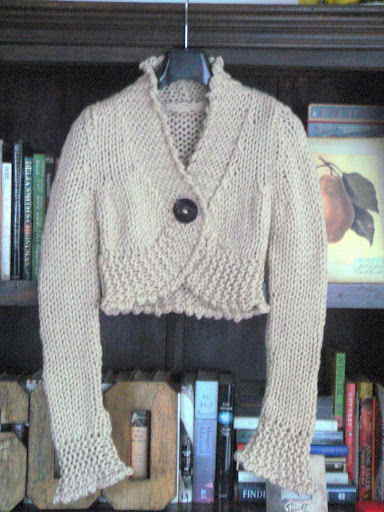 While churning out hats I came across some Rowan Big Wool left over from the cardigan I made for Gen for Christmas. Keen to use up more stash I pulled out the Kim Hargreaves Heartfelt book and knit up Cherish for Gen.

However, when I handed it over to Caroline yesterday I got the distinct impression that it might never actually make it to Gen's wardrobe as Caroline seemed quite taken with it.
The most random project of the week was a request from the Caked Crusader for a jumper for a very old, very worn, and very well loved lemur puppet named Merf. Apparently, Merf was a childhood favourite of the Caked Crusader and her brother and has now been handed down to the Caked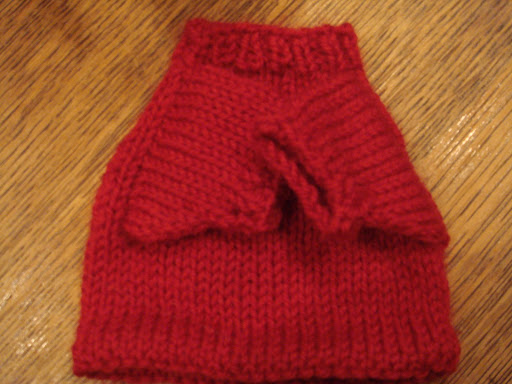 Crusader's nephew. He is showing his age and the Caked Crusader thought a new jumper might spruce him up a bit.
Designing for a lemur puppet took a bit of thought, mostly due to his sticky out arms and lack of a neck. A bit of fiddling around and I came up with the red jumper. Being an overachiever I immediately cast on for the black version. And as an inspired afterthought I crocheted a dapper scarf to be worn with either.

I'd offer to write up the lemur puppet pattern but I don't expect there's much demand.