Happy New Year! I hope you have all enjoyed the holidays as much as I did. I can't believe how quickly they've come and gone though.
After the successful completion of my gift knitting (yippeee!) I celebrated by casting on for what would be come my final knit of 2007. It is Ene's Scarf from
Scarf Style
and proved to be perfect knitting for the season.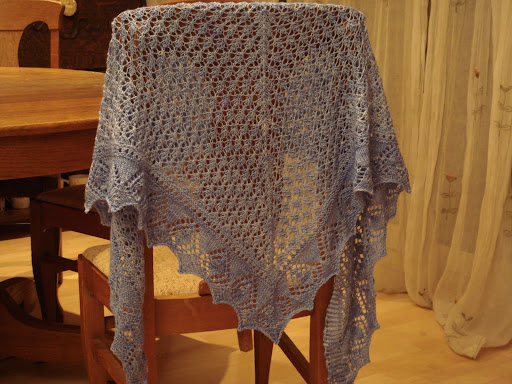 The scarf is knit from the long edge (cast on 375 stitches) and decreases 4 stitches every second row. The advantage of this method is that it keeps your motivation up as the rows get shorter and shorter the closer you get to the end.
The disadvantage is that you have to cast on 375 stitches. And because I managed to mess up the first few rows 3 times before I FINALLY got it right - I got to cast on those 375 stitches 4 times. I was in fact convinced that there was a problem with the pattern and searched frantically for an errata to support me. Alas, there was none. I was just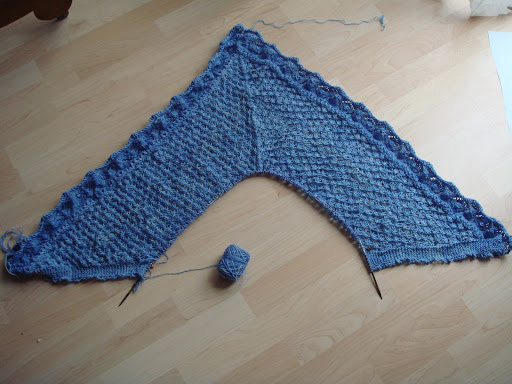 incapable of maintaing my focus on the scarf while David Tennant was saving the earth from destruction (in a tux) (gadzooks that man looks fine in a tux) in the Christmas episode of Dr Who. (The champagne with Christmas lunch probably didn't help either.)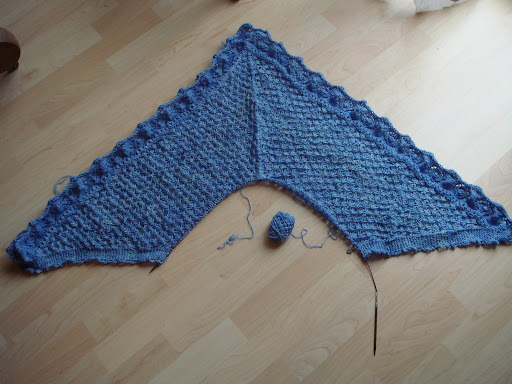 But without the distraction of David Tennant the scarf is pretty straightforward, and once you are in the body of the scarf the pattern is very easy to remember. Perfect knitting to keep my mind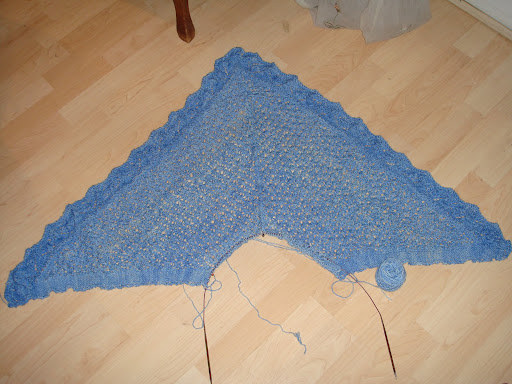 occupied while I continued to gorge on Christmas TV. (The finale of Extras and The Old Curiousity Shop were particular favourites.) (Although I think The Old Curiousity Shop was over-abridged as the grandfather character had no redeeming qualities that I could see - but I felt I was supposed to like him. I am going to read the book no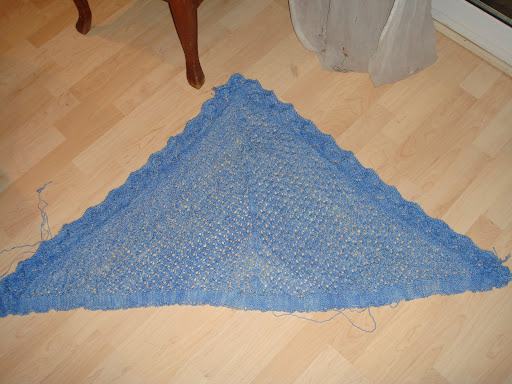 w to find out what they cut out.)
I used Lucy Neatby Celestial Merino sock weight yarn which feels gorgeous. My only complaint with the yarn was that the dye came off on my hands throughout the knitting -- I had blue fingers for much of the holiday!
The finished scarf is warm and cosy and I expect it will get a lot of wear.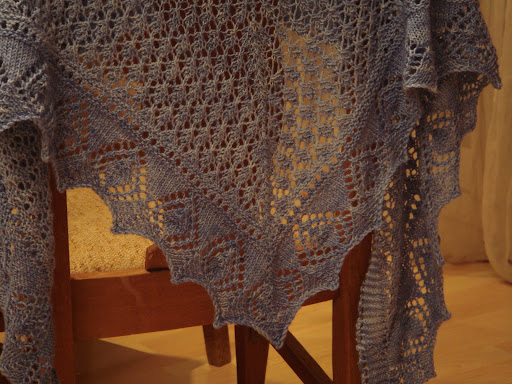 As it is the beginning of a new year I've been doing the usual evaluating of 2007 and planning for 2008.
2007 was a great year for me knitting-wise. Kicked off by finishing (after 18 years) the
Kaffe Fasset Chinese Rose Coat
. Completing the coat in itself was quite an event, but it was also the thing that led to my discovering the vast www knitting world. A simple search for Kaffe Fasett in google one day led to my discovering the UK knitting forum, Knitty board, the amazing world of knitting blogs, Ravelry and more patterns than I had ever imagined.
I went from
total scepticism on the topic of socks
to always having a pair of socks on the needles and am the happy owner of over 10 books on the glory of socks!! I've made 17 pairs of socks and demand for them seems to be growing.
Herbert Niebling
joined
Kaffe Fasset
as a knitting god in my eyes. I became obsessed with lace knitting and completed 8 scarves/shawls/stoles and 2 lace table covers.
And for a bit of variety I made a few tea cozies, a couple of felted bags, a comfy throw and a lot of Innocent Smoothy hats. (Oh! and some mittens, hats and a cardigan.)
As for 2008 - well, I won't be surprised if I'm a little less prolific. Surely this mad enthusiasm has to wane at some point! Having said that I have a mountain of yarn and a list of patterns I want to make a mile long -- and every day I seem to find another must have yarn to add to the mountain or another gorgeous/challenging pattern to to add to the list.
Hope your 2008 is everything you want it to be!